The Formation and Rotation
One attackman is behind the net, while the other two are on the bottom right and left wings. Attackmen are in the same position as a 2-3-1 formation.
One middie, typically the fastest one, is at the top of the box. This middie will be running a lot, because he must pass and catch the ball from both wing attackmen.
The other two middies are on the crease, and are picking for each other. Good 1-4-1 lacrosse plays always have crease middies setting great picks.
In the diagrams below, you can see the rotation of a 1-4-1 offense.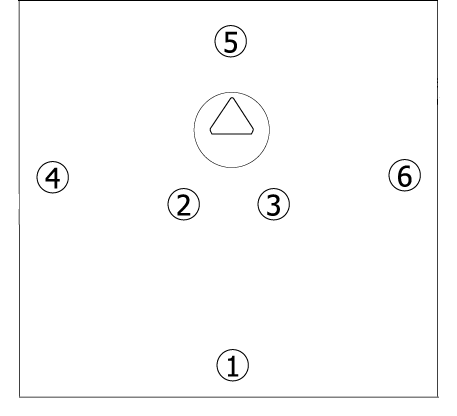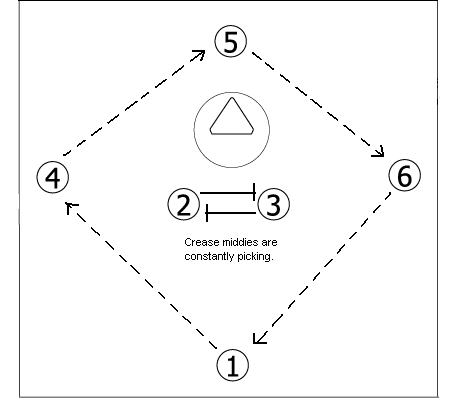 The Plays
The easiest 1-4-1 lacrosse play to perform in this offense is the "Double Pick."
Almost every other play in this formation involves the crease middies picking for each other, and then cutting to the net.
The double pick starts off with the right wing attackman having the ball. He should try to dodge his man, and cut towards the goal, but if he can't, then he should go to the top of the box. He then passes the ball to the top middie, who carries the ball to his left.
At the same time the top middie gets the ball, the left wing attackman should cut to the crease. He will then set a pick for the right crease middie.
Timing must be perfect, because at the same time, the left side crease middie should be setting a pick for the right crease middie.
The right crease middie cuts at the correct time, so that he goes under the two picks that were set for him. At the same time, the player with the ball is cutting to his left, and looks to pass the ball inside.
The middie coming off of the picks should receive the pass just as he gets off the picks. He catches the ball, turns, and fires a shot into the bottom right of the net.
Although this play is simple, it can be deadly if a defense underestimates it. Practice makes perfect for this one, because timing is crucial.
1-4-1 Play: Part 1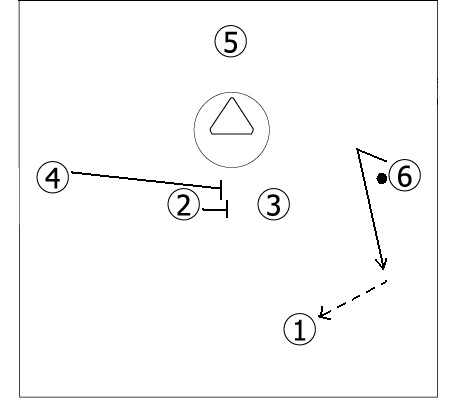 1-4-1 Play Part: 2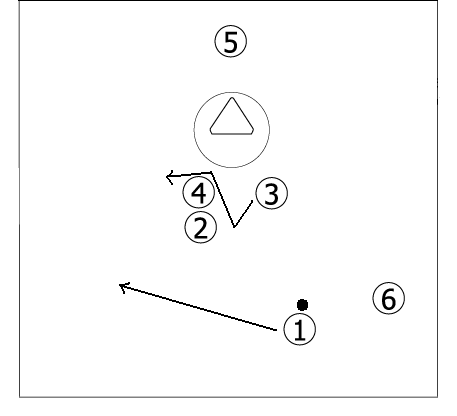 1-4-1 Play Part: 3